Please click on the image above to open the latest Church Newsletter
---
Food Fest - October 24, 2020
(Last Chance to Order: October 21st)

Throughout the summer, our Parish Council, Philoptochos Ladies Society, Youth Ministries and our dedicated parishioners have discussed ways to reunite you with our heritage, food and culture in a socially distant and safe way. Our October Food Fest is our way of providing a taste of what you have been missing. While our October Food Fest will not replace Greekfest and our Fall Philoptochos Bazaar, we look forward to seeing you on Saturday, October 24, 2020 via our pre-ordered, drive-through, Food Fest event.
Thank you for your continued support. Please stay safe!
---
Please click on the image above for Directions to our Church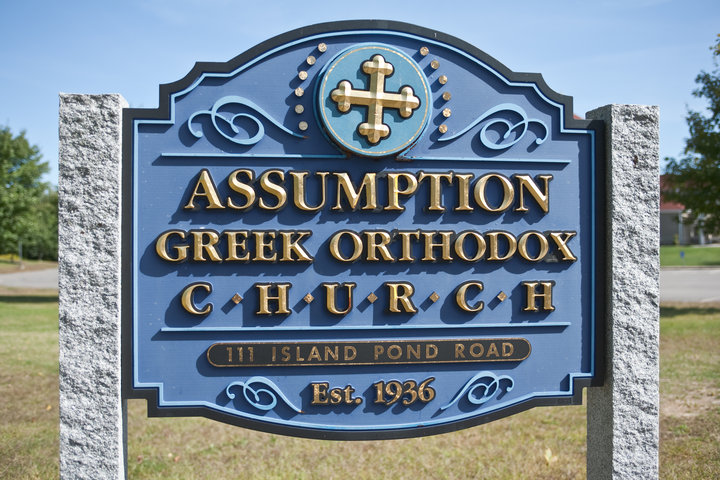 WELCOME!
"Welcome one another, just as Christ has welcomed you, for the glory of God."
(Romans 15:7)
We welcome you in the name of our Lord Jesus Christ and we are pleased to introduce you to the worship, ministries and fellowship of our parish. Whether you are considering membership or you are already a member, we are glad you are with us and we are looking forward growing together in Christ!
OUR MISSION
The mission of our Church is to proclaim the Gospel of Christ, to teach and spread the Orthodox Christian Faith, to energize, cultivate, and guide the life of our parish according to the Orthodox Christian Faith and Tradition.
The Greek Orthodox Church in America sanctifies the faithful through Divine worship, especially the Holy Eucharist, Baptism and other Sacraments. We are working on building the spiritual and ethical life of the faithful in accordance with the Holy Scriptures, Sacred Tradition, the doctrines and canons of the Ecumenical and local Councils, the canons of the Holy Apostles and the Fathers of the Church and of all other Councils recognized by the Orthodox Church.
---
Fr. Gregory's Message
Weekly Bulletin
Monthly Calendar
---
Sunday Divine Liturgy
Important Announcement
Dear fellow parishioners and visitors:
As you may be aware of the recent events, there was an issue with the dispensing of Holy Communion. Therefore, effective Sunday, October 4, 2020 we are suspending in-person Divine Liturgy Services. We hope a resolution is reached soon. Sunday services are still available to view through our streaming service and we hope you can join us. Thank you for your patience and understanding and look forward to seeing you all again very soon.
Be safe and God bless.
Costa Georgopoulos, Parish Council President
Worship Hours
Orthros (Matins): 8:45 AM
Divine Liturgy: 10:00 AM. There will be no coffee hour after services.
---
Weekday Services
Our church has services on a number of weekdays! Most Dominical Feasts for our Lord Jesus Christ and feasts for the All-Holy Mother of God (Panagia Theotokos) happen on weekdays. Same is true for most feasts of major saints. During such feasts, we start Orthros (Matins) at 8:30 AM and Divine Liturgy at 9:30 AM. The weekday Divine Liturgy lasts 1 hour.
Also, on most Wednesday evenings our church offers an Evening Prayer to the Mother of God. Finally, on selected days, we offer a Morning Prayer. Both the Morning and Evening Prayer services last 45 minutes.
Feast Days together with Evening & Morning Services are blessed opportunities to come to church for a spiritual uplifting on a day other than Sunday. Please join us!
Please see details for our weekday services on our monthly calendar
---
Upcoming Events:
This month please join us for:
1) October Food Fest: Saturday, October 24th, from 11:00 AM to 3:00 PM

For menu and more information, please go here: www.foodfest.assumptionnh.org

2) Feast of St. Luke: Sunday, October 18th, Orthros 8:45 AM, Div. Liturgy10:00 AM
3) Feast of St. Demetrios: Monday, October 26th, Orthros 8:30 AM, Div. Liturgy 9:30 AM
PARAKLESIS TO THEOTOKOS (PRAYER TO VIRGIN MARY)
(The faithful are welcome to attend these services in-person at our church)
Wednesday, October 7th, at 5:00 PM
Wednesday, October 14th, at 5:00 PM
Wednesday, October 21st, at 5:00 PM
Wednesday, October 28th, at 5:00 PM
Greek School :
-- Wednesdays, 4:00 - 5:30 PM (classes 5 & 6)
-- Thursdays, 4:00 - 5:30 PM (classes 1 & 2), and 5:45 - 7:15 PM (classes 3 & 4)

For more information and registration, please go here

---
Worship
O Come, let us Worship and bow down before our King and God. O Come, let us worship and bow down before Christ, our King and God. O Come, let us worship and bow down to Christ Himself, our King and God. Learn more»